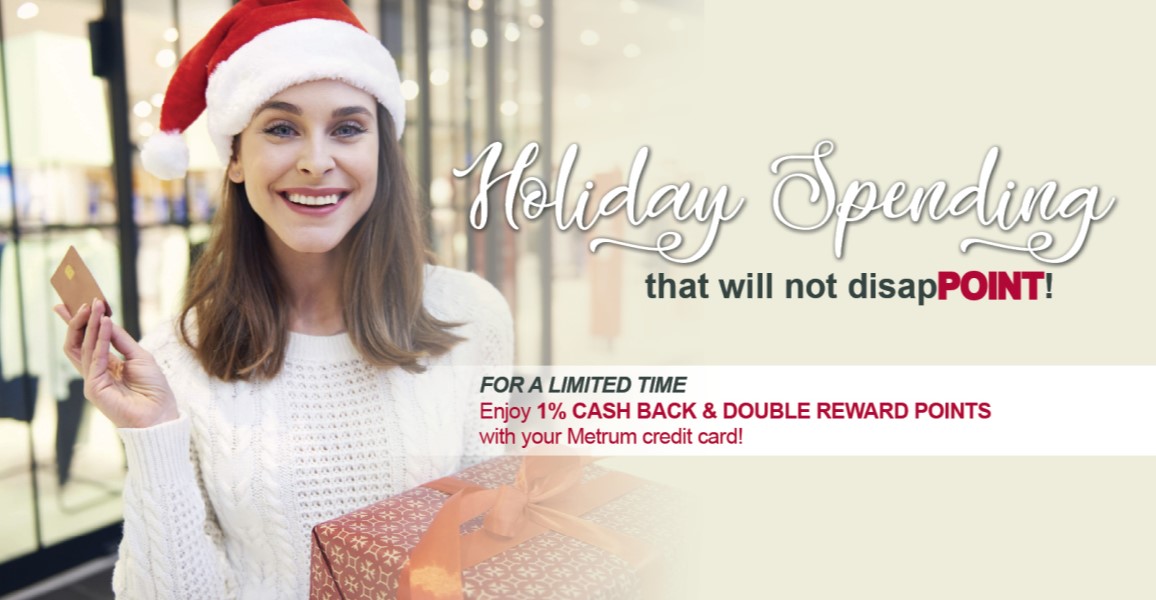 Holiday Rewards from Metrum Community Credit Union
Use your Metrum Credit Card for holiday shopping & for a limited time, all cardholders can enjoy 1% cash back on purchases & Premier Rewards cardholders will earn 2 points per $1 spent on all purchases!
Currently have a card and want to earn cash back?  Just text the word CASH to 303-770-4468 and follow the instructions as provided.
Need a MCCU credit card in your wallet?  Click here to get started!
Select your choice of the Fixed Rate Classic VISA or the Premier Rewards VISA and earn points for purchases.
*Visa interest rate is based on credit score. Highest rate is 18%. 1% cash back offered on all Visa Credit Card purchases posted to your account between November 1 and December 31, 2022. Cash advances do not qualify for cash back offer. Cash Back will be paid directly to your Credit Card Account on November 30, 2022 for November's purchases and December 31, 2022 for December's purchases. Minimum cash back paid per month is $3.00 and the maximum cash back paid per month is $250.00. Double points will be posted to reward account January 2023. If Credit Card account falls 10 days or more delinquent, cash back for the month will be forfeited. Membership eligibility and $25.00 Share Savings deposit required. 1Classic card rate tier at 17.99% may be assessed $15.00 Annual Fee. **Cash advance and balance transfer fees may apply based on card agreement. Contact the credit union to learn how you can avoid possible fees.